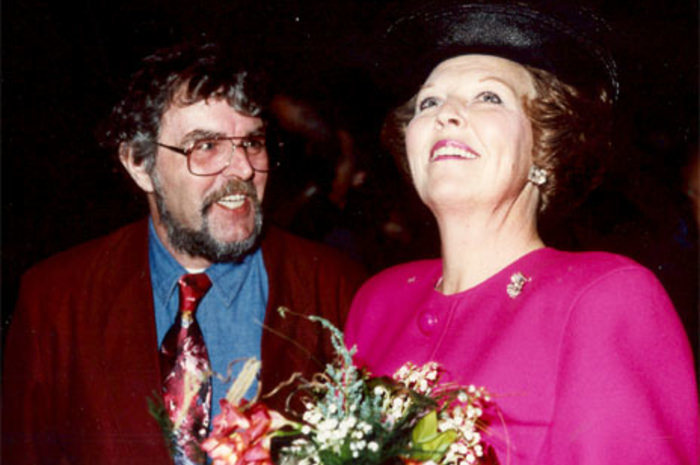 Ernst Bosch
The life of the visual artist Ernst Bosch is dedicated to the art of painting. His work is internationally known and sold. He has been invited to expose his works of art on several very important occasions.
Most known are:
The well known worldfair Floriade '92"
"The well known worldfair Floriade '92" where his huge art project "Human Power" was presented by H. M. Queen Beatrix of the Netherlands.
Photo: Her Majesty Queen Beatrix of the Netherlands and Ernst Bosch at the presentation of the art project "Human Power" on the worldfair "Floriade 92" at the Village of Zoetermeer.
"Het Gelders Vermogen".
An extensive international business to business promotion meeting where three very large art projects were shown at Deelen Airport The Netherlands.
Ernst Bosch has his own particular style in all his work.
During his development as an artist he painted
three exceptional masterpieces
before the years he experimented on Rhizomatic Art.
THE NEW PARADE
Twenty paintings giving together a view on the present society. With citations out of work of Fernand Léger ("The great Parade") and Picasso ("Parade", a piece of scenery) Size 14 meter x 3.75 meter

HUMAN POWER
Seven canvases sized 3 meter x 1.60 meter (ca. 12 x 3 meter in full).
- Mankind and his environment; the hope that man can solve global pollution
- On this huge painting a very heavy collage of real waste matter is glued, like plastic bottles, boxes and other packing material, tins, syringes, textiles etc.

MAN AMONG PEOPLE
Eight canvases sized 1.60 wide x 2.50 high. In full 13 x 2.50 meter.
Inspired by people and their interactions. The background of the work is made of nearly a thousand of painted small portraits. The representation of the people in the foreground depicts love and hate, attraction and repugnance, care and indifference, social and unsocial behaviour. Living with each other.

See the binding "Gelders Vermogen '95" or the book "Beeldinslag", kunstprojects by Ernst Bosch, issued 1995 in The Netherlands.